Should Indian's Stop buying Chinese Products? (Ban Chinese Products, Really?)
Firstly, Can any country ban all products from a particular country (China)? NO, you read it right. No country can ban all the products from a particular country for the following reasons
WTO (World Trade Organisation) Free trade Agreement does not permit us to do so.
Exports to those countries can also get banned.
Foreign investments in India can be affected as India become vulnerable to such Investments.
Do we really need to ban products from china? I don't think so, lets a look at some of the sectors which India is good at and lets us also understand what can go wrong if we ban products from china. I will try to pick a few sectors and then discuss the pro and cons of the ban.
Software Sector:
You would be surprised how can this sector be affected, Do you know China accounts for 32% of world Electronic and Electrical Exports $972 billion and India Imported $50.38 Billion which is 56% of total Electronic imports from the World.
Without Latest hardware and technology, how can India export its IT and ITes Services to the world? 
Let us Look at it the other way around we imported only $50.38 billion worth of Hardware and India's IT service industry currently stands at $177 billion with exports amounting to $136 billion and the industry employees around 4.1 million people. India is known for its exports of IT services and one of the main reasons for such growth as they have opened its economy to the world in 1991. Not only is India dependent on Imports so it is china; China has been sourcing components from South Korea and Japan to make Finished and semi Finished components. I know you would say why can't India make their own hardware, yes, of course, they can and they will eventually make. However, In order to make this happen, they still need to source or import components from the world including China.
Exports Sectors:
India's Export to China (incl Hong Kong) is $28.04 Billion which accounts for 8.68% of Total India's Export in 2019. Our exports to China mainly consist of organic chemicals, Ores, and Precious Metals & Stone. Whereas China's Export to India: $74.9 billion (3%) of its total export
| | |
| --- | --- |
| Product label | China's imports from India in 2019 |
| All products Total | 17970065 |
| Organic chemicals | 2905297 |
| Ores, slag and ash | 2363548 |
| Natural or cultured pearls, precious or semi-precious stones, precious metals, metals clad with precious metal, and articles thereof; imitation jewellery; coin | 1575150 |
| Fish and crustaceans, molluscs and other aquatic invertebrates | 1225933 |
| Cotton | 1206135 |
One very interesting fact from the List of Top 10 Products that India Exports the world: Many of the machinery or spares are imported from China for processing or making the finished products for their Exports.
| | | | |
| --- | --- | --- | --- |
| | Product label | Exported value in 2018 | Exported value in 2019 |
| | All products | 323997680 | 322786377 |
| 1 | Mineral fuels, mineral oils, and products of their distillation; bituminous substances; mineral waxes | 48695001 | 44081090 |
| 2 | Natural or cultured pearls, precious or semi-precious stones, precious metals, metals clad with precious metal, and articles thereof; imitation jewellery; coin | 40148216 | 36650342 |
| 3 | Machinery, mechanical appliances, nuclear reactors, boilers; parts thereof | 20468680 | 21158021 |
| 4 | Organic chemicals | 17815579 | 18296277 |
| 5 | Vehicles other than railway or tramway rolling stock, and parts and accessories thereof | 18277490 | 17188139 |
| 6 | Pharmaceutical products | 14330253 | 16124969 |
| 7 | Electrical machinery and equipment and parts thereof; sound recorders and reproducers, television image and sound recorders and reproducers, and parts and accessories of such articles | 11869233 | 14672931 |
| 8 | Iron and steel | 9969914 | 9665316 |
| 9 | Articles of apparel and clothing accessories, not knitted or crocheted | 8082832 | 8599203 |
| 10 | Articles of apparel and clothing accessories, knitted or crocheted | 7580562 | 7908865 |

Furniture Sector:
India's total Furniture Imports $1.72 Billion 56% of this is from china. Yeah, I know this sector is too small to discuss but we have very few per person compared to other countries. Do you think making more furniture in India can lead to more trees getting Chopped in the name of development and Urbanisation? Of course one can argue we can always import wood instead of furniture and make it in India. Yes this is already happening $2.16 Billion mainly from (Malaysia, New Zealand & China are top 3 Import Partners)
Pollution in India:
Of the world's most polluted 30 cities, 
22 are in India
, according to research by IQ Air Visual, a Swiss-based group that gathers air-quality data globally, and Greenpeace. Don't you think more factories meaning more pollution? Many in the west do not Import goods just because its economical to buy from china but also as their country does not allow them to produce die to high pollution in manufacturing them
India SME and Machinery and Innovation:
I remember Monopoly markets and Quota systems in the '80s and outdated technology in the '90s. India took 25 years to reach a level where products are launched at the same time when they are launched in other parts of the world. India was always the last one to get Technology thanks to globalization now we are at par with the world. Manufacturing (Make in India) needs machines, India is a price-sensitive market European machines are mostly way expensive for Indian Entrepreneurs with 1/5 price in china with some tweaks and modifications Chinese machines can do the same output that a European made high tech machine produces. Low initial capital investment and high ROI makes it very easy to grab Entrepreneurs' attention. $15 billion worth imports of machinery are from China (17.6% of its total Import from China)
The economy of Saving:
Let us say you saved 20% by buying a Chinese made product in India and let's assume you did not spend what you saved and are in you saving account in the bank. Bank then would lend this money in the ecosystem and more industries or traders would buy more products more employment is generated and more money in the market and so on. It is said this same money gets circulated 4 to 5 times also know as money multiplier.
money multiplier:  mm = 1 / rr (reserve requirement by the bank)
Example Reserve bank needs to maintain is 20 to 25% lets say therefor formula say 1/0.2 or 1/0.25 equals 4 or 5 times.
Bilateral trade between India and China in 2019
Source:
Ministry of Commerce
Chinese Investment in Startups:
Indian Entrepreneurs have been funded by foreign investors as banks or Govt do not fund risky businesses, startups today start their business with the asset-light model leaving no option but to wait for Venture capitalists from foreign investments. By deleting these Apps or not using startup services them you are likely to Kill entrepreneurship in India. Chinese investors totalled a record $3.9 bn in 2019, according to figures from Refinitiv. Data provider Tracxn said Chinese funds invested in 74 funding rounds last year — the largest ever number. Alibaba has invested in payments group Paytm and food-delivery service Zomato, while fellow Chinese internet giant Tencent has backed car-hailing app Ola and Byju's, an education start-up.  Funds like Shunwei Capital and Morningside Ventures have also become more active, investing in start-ups including bike taxi apps Rapido and ShareChat respectively.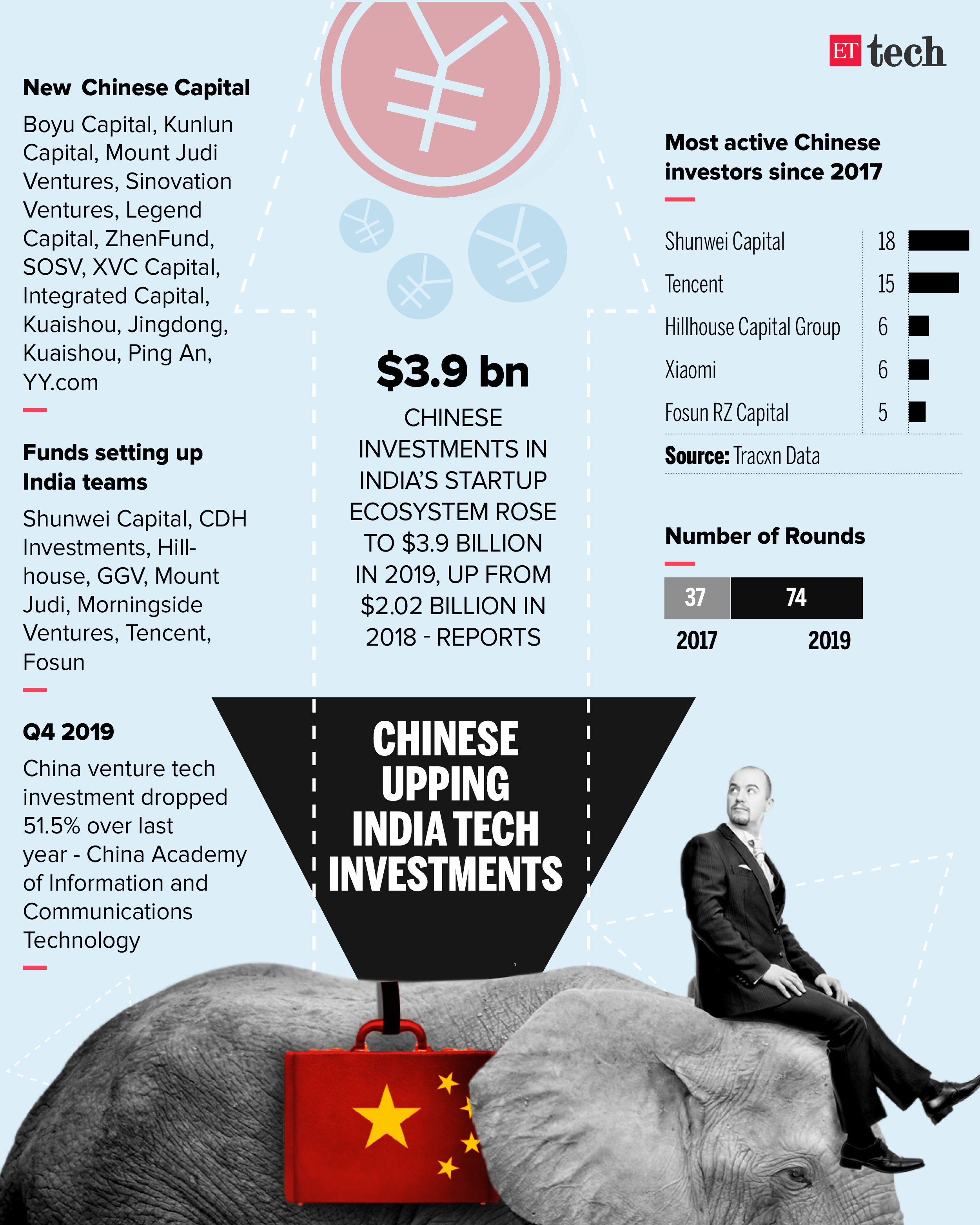 China Plays Important Role in Following Sectors for India's Growth
Renewable Energy, Solar Panels and its Raw material
Plants and Machinery from Wood to Plastic and Steel to Chemicals.
Aviation and Automobiles (especially Electric Vehicles and its core components)
Telecom, Electronics and its components  (Television, home appliances)
Pharma and API's
Sectors which India should focus on making in India are:
Chemicals
Agrochemicals
Pharma/APIs
Consumer durables
Auto component
Conclusion:
Should India Buycott Chinese products? Should India Ban all Chinese products and services? Should India be self-dependent in Manufacturing every product in India? In the name of Patriotism should Indian's be left with high priced and less innovative products? We leave it on you to decide on what could be true. Britishers ruled India for 15o+ years and Indians are completely fine to trade with the UK. Are India's Getting misleading by Marketers or People with hidden benefits are taking advantage of such a situation.
buying, chinese, indian, products, should
---
Maulik Shah
---